PRODUCT SELECTION
We offer a broad selection of rotating electical products. Enough to be a stand alone line and fill all of your electrical demands.
Complete Domestic, Import, and Heavy Duty Covergae, not just a few fast movers, but complete coverage.
All products are "Exact to Fit" OEM replacements.
We remanufacture the original OEM core to meet or exceed OEM specifications.
PRODUCT SUPPORT
Our product support insures a long product life and trouble free installation.
Our entire catalog is devoted to rotating electrical.
We offer R&R services and same day turnaround for existing customers.
Technical seminars, technical bulletins, and tech services available upon request.
All products are remanufactured in our factory.
All products UPC barcoded.
PRODUCT PRICING
Quality remanufactured products are always a cost effective alternative to the OEM supplied by the dealer.
PRODUCT LINE
Alternators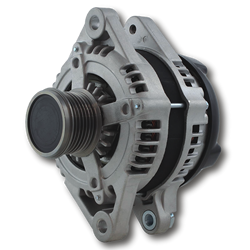 Starters